Shieldon Worked on Army Knife Custom Packaging and Logo Engravement for a Thriving Company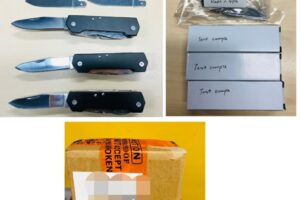 As one of professional OEM knife manufacturers, Shieldon specializes in customizing everything from packaging to logo engraving for a variety of thriving companies.
They are known for their commitment to quality and attention to detail, delivering the best possible results with every job they undertake.
Shieldon was dedicated to this project for a total of 6 months. Discussions and sample sending took 1 month, followed by 3 more months designated solely for production.
Lastly, package and FOB shipping had an additional 1 month allotted to them before completion.
In this article, we will narrate what Shieldon provided, the production process, and the results of this case.
Brief Background about the Client
This customer, a trading company that sources outdoor knives and tools globally, demanded logo samples, packaging service, and shipping service for two various army knife models plus one of the top-selling EDC tools in 2022.
This was the first time customers had ever purchased from Shieldon, and they wanted to make sure that everything was perfect before making their order.
Shieldon's team of experts was proud to demonstrate expertise and proficiency through every step of this project.
What did Shieldon provide?
Tools and knives Recommendation
When the buyer initially contacted Shieldon through a website quote, they expressed a need for knives and tools with carabine.
Shieldon has accrued a remarkable inventory of knives and tools over the past twenty years, allowing them to provide an expansive range of ODM models in the product pool.
In fact, with more than one trillion products at Shieldon's disposal, you can be certain that there is something ideal for your needs!
Custom packaging and shipment
As the customer had their own shipping agent, Shieldon did not need to arrange for shipment.
However, the team provided them with shipping marks and corresponding trademarks which followed the practices of their designated shipper.
Shieldon's specialists put identifying marks on each carton that included a serial number, guaranteeing safe delivery of all packages.
As a one-stop manufacturer, Shieldon provided services from production to packaging to shipping. The Shieldon organization is a large group all professional teams working together.
The Production Process and Its Commercial Success
The buyer chose HF-GH-A08AL as his first army knife after a month of deliberation.
They requested a package sample and logo engraving, and the professionals took actual images. Finally, the buyer liked this army knife and sent the logo size.
They requested the precise size of a sample box that they could use to create a graphic image. Moreover, Shieldon's talented team suggested including silicon gel and an instruction paper within it for additional customization.
The customer happily accepted the silicon gel but declined a need for any accompanying instruction paper.
This army knife includes 9 functions: knife blade, scissor, bottle opener, can opener, flat screwdriver, Phillips screwdriver, wood saw, corkscrew, and carabiner.
Shieldon experts advised coating a Kraft box and adding silicon gel since it would stay wet. Customer agreed.
The Kraft box would be constructed from 157g art paper with a film-coated finish, providing weatherproof protection for the item inside.
Furthermore, a silicon gel and PP bag will ensure that the knives remain dry even in humid climates.
Unfortunately, an error occurred during the logo engravement process.
The customer required 2 box layouts before their graphic could be inserted; however, due to product size limitations, Shieldon experts had difficulty enlarging the client's brand logo specifically at "R".
Despite these challenges, they eventually found a way to work around them and produce a satisfactory result that adhered to the client's specifications.
They saw the logo and package graphic design as masterpieces, so they refused to modify anything regardless of how the size does not correspond with the product itself.
Eventually, the customer was content with one of Shieldon's designs.
This product is a customer's request – another popular EDC tool that was filled by Shieldon with a production run of 2,000 pieces monthly.
Despite this item being one of the best sellers in 2022, the customer desired something exclusive to them – thus they requested that Shieldon's experts customize their logo and package design.
The customer picked another army knife. They wanted a branded logo again.
Shieldon's specialists etched the brand on the blade instead of the handle to meet the unique demand (the logo was mosaiced to protect client information).
Shieldon sent these 3 models to the buyer for review after logo development.
The experts carefully packaged the knives according to protocol.
Silicon gel was employed in many other items, and although it doesn't protect against humidity entirely, it does offer assurance that the product will be moisture-resistant.
After only a week, Shieldon specialists received the graphic vector provided by their customer and designed multiple package boxes based on its die-line.
But when they presented the red box made out of 157g art paper with film coating – it immediately caught everyone's attention!
Its vibrant color and reflective surface ensured that this product would be successful in any market. Not to mention, it was evidence of Shieldon's proficiency not only at printed products but also at metal ones.
After constructing the prototype boxes, the Shieldon team conducted a test run to package customer orders – and were thrilled with how well they fit!
Shieldon staff not only took pictures of the finished product and sent it to customers, but they also went above and beyond by sending several samples through express delivery.
The customer was thoroughly satisfied with Shieldon's service, leaving them confident in their purchase decision.
To eliminate stress and avoid potential errors, the experts at Shieldon implement strict standards for quality assurance and packing procedures before shipping out any goods.
Shieldon's Expert Experience in Shipment and Packaging
Shieldon is also well-known for its expertise in international shipping and packing.
To ensure that goods arrive safely and intact, they use the best possible materials to meet the client's requirements.
Shieldon provided customers with an example of their packaging to ensure that every detail was taken into account and made clear.
By doing this, they demonstrate commitment towards the order/project and let them know that Shieldon experts are working diligently on it.
To ensure customer satisfaction, they packaged samples securely and shipped them via express mail.
After a thorough examination of the items two weeks later, they thanked the Shieldon team for their efforts and were pleased with both quality and service.
At that point, they opted to go ahead with an order release. During this process, they double-checked all necessary banking details required for successful international wire transfer completion.
This client had a wealth of experience with international trade, resulting in an acute awareness of the finer details. They exhibited great discretion and Shieldon was able to learn much from this project as well.
Takeaways
Shieldon's expertise in custom packaging, logo engravement, and international shipping has enabled them to provide a high-quality service for this particular project.
Their attention to detail ensures that all customer requirements are met, leading to greater satisfaction from the client.
This example of their work demonstrates how they can meet any challenge with precision and care while providing valuable insights into successful business practices.
With decades of experience behind them, customers can rest assured that Shieldon will deliver quality results every time!