Low alloy steel pipe grades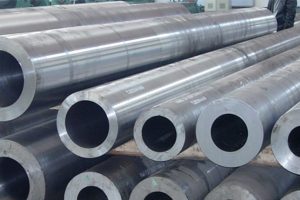 Alloy steel pipe grades depend on the material composition, the standards applied and the temperature and pressure specifications. Low alloys are the ones that have the alloying material in less than 5% of the raw material quantity. They are often chromium, nickel and molybdenum. A host of other elements such as manganese, magnesium, vanadium, niobium and sulfur could also be used in alloys.
The low alloy means, they are cheaper than the high alloy materials. They would have their temperature and pressure limitations. The Alloy steel pipe grading has to be decided when purchasing according to the need. Using a high end titanium alloy for a low carbon need is overkill. So, the low alloys are produced in different grades. The grades are referred to as P grades. The most used of P grades are the P9, P11 and P22 due to their low cost and sufficient properties for mild applications. The alloy could be produced in seamless or electric resistance welded qualities.
The seamless Alloy steel pipe is drawn so that it looks seamless and machining is not necessary. The seamless alloy steel pipe materials make it readily useable in piping systems. The low alloy A335 P11 is very efficiently priced. The applications differ from ordinary domestic applications to high end chemical applications. The chromium molybdenum alloy could be used in high temperatures. These are either cold drawn or hot rolled. The seamless ones are usually cold drawn. They could also be strengthened by cold working.